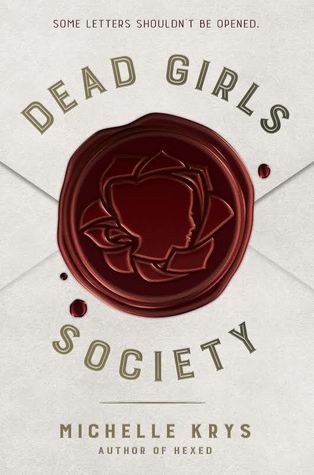 Dead Girls Society

on November 8th 2016
Goodreads

You are cordially invited to participate in a game of thrills and dares. Tell no one, and come alone. If you dare.

Hope is sick of everyone treating her like she's breakable. Sure, she has cystic fibrosis (basically really bad lungs), but she's tired of being babied by her mom and her overprotective best friend, Ethan, not to mention worrying about paying for her expensive medication and how she's going to afford college. And she's bored with life in her run-down New Orleans suburb.

When an invitation arrives from a mysterious group that calls itself the Society, Hope jumps at the chance for some excitement. This could be her ticket out. All she has to do is complete a few dares and she might win some real money.

But the Society isn't all it seems . . . and soon Hope finds that playing the game isn't a choice—it's a requirement.
I just finished reading Dead Girls Society and it was AMAZING, you guys have to read it
When Hope, the MC of the story gets a suspicious email from "The Society" telling her to go to a specific place at midnight everything changes; at first she thought it was a joke from her friend Ethan,
but it wasn´t.
She lives with her mom and little sister, she has Cystic Fibrosis and gets sick easily and her mother keeps her at home because of that.
But Hope wants a normal life, she wants to hang out with her friends and live her life…
Now Hope is playing a dangerous game of dares alongside four other girls, Hartley, Lyla, Nicole and Farrah, a game in which anyone could be responsible, even the one you least expect.
But the girls have one thing in common… after ll that´s why they were picked.
And the end…
THEN END GUYS!!!
I JUST NEED A SECOND BOOK OK?!?!?!
THERE HAS TO BE A SECOND BOOK!!!!
The story was thrilling from the moment Hope got the letter, I didn´t know who to trust, everyone seemed guilty, but then that´s what "The Society" wanted you to think.
When I found out who was the responsible I was shocked, because it was obvious, why didn´t I suspected that person?!?! WHY?!?!
The pacing of the book was perfect, it was imposible for me to put the book down and THE DARES!!! Some of them were pretty scary…
My favorite character of the story was Hope, because even when she was sick, she proved that she was capable of doing all those dares, she risked her life a lot, and I was proud of her determination.
Overall, this is a must read, I really hope you guys read this book, I think you guys will like it.
Becky <3
Related Posts