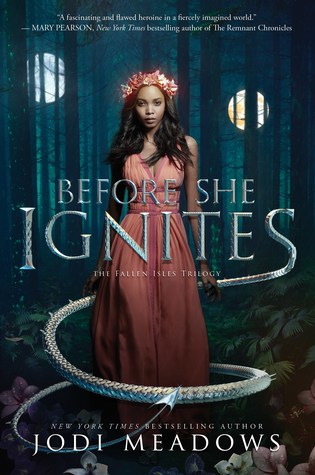 Before She Ignites

by Jodi Meadows
Published by Katherine Tegen Books on September 12th 2017
Genres: Fantasy, YA
Pages: 496
Buy on Amazon-Buy on Barnes & Nobles-Buy on Book Depository
Goodreads

Before

Mira Minkoba is the Hopebearer. Since the day she was born, she's been told she's special. Important. Perfect. She's known across the Fallen Isles not just for her beauty, but for the Mira Treaty named after her, a peace agreement which united the seven islands against their enemies on the mainland.

But Mira has never felt as perfect as everyone says. She counts compulsively. She struggles with crippling anxiety. And she's far too interested in dragons for a girl of her station.

After

Then Mira discovers an explosive secret that challenges everything she and the Treaty stand for. Betrayed by the very people she spent her life serving, Mira is sentenced to the Pit–the deadliest prison in the Fallen Isles. There, a cruel guard would do anything to discover the secret she would die to protect.

No longer beholden to those who betrayed her, Mira must learn to survive on her own and unearth the dark truths about the Fallen Isles–and herself–before her very world begins to collapse.
Hello everyone, we hope you are all having an amazing and wonderful day. 😊 Today is a very special day because the Blog Tour for Before She Ignites by Jodi Meadows starts today! We had the pleasure of organizing this amazing tour and it really meant a lot to us!❤️❤️❤️
Jodi Meadows is one of our favorite writers, so this is an incredible experience for us! We also really can´t wait for you guys to read this book, we hope you love it as much as we did!💖
And now, to start off today's Tour here's Jodi Meadows sharing with us how she imagined the world setting for Before She Ignites ❤️
One of the most fun parts of writing BSI was creating the world. It was also one of the most challenging.
From the start, I knew that I wanted the world to be both easy to understand on a broad level, but intricate as well. Like a mosaic, where you notice the overall image at first, and details in the individual stones as you peer more closely. That set up a big challenge for me because, until the Fallen Isles, I've always felt my worlds were pretty straightforward, with most of the details branching off the main difference between their world and ours. With the Fallen Isles, the first thing I understood about the world was the islands, of course. I knew they were the gods who'd crashed into the sea, and they bestowed gifts upon their people. I could easily extend that to people being hesitant to leave their home islands because their gifts were muted away from their gods. And it made sense that people from certain islands would most value what their gods valued.
So people from the Warrior island might value strength above all things, and folks from the Lovers islands might put all kinds of love above other virtues. Of course, humans are flawed creatures, and we tend to get into fights even when we're on the same side. We use people. We mistreat people. And we very often do it under the guise of "helping." With all that in mind, developing the cultures, societies, governments, superstitions, and details of islanders' lives on the Fallen Isles was like clearing chunks of dirt and dust off an ancient artifact that was already there. For me, world building is often a discovery process. And, of course, there were dragons.
One of the very first notes I have on this book is that Mira has a small dragon she loves more than most anything. Using that as a jumping-off point, I spent some time writing lists of dragon types, how they might be named, what they might be useful for (since humans are always trying to use everything), and how dragons were connected to the world itself. Also, yes, I drew a map. For a while, I tried to draw a fancy map — you know, with shading and rugged mountains and all that. I bought a nice notebook in order to draw an atlas that would include the overall view of the islands, then individual islands and cities. I wanted it to be super fancy. Then I realized a) I don't draw well, and b) I needed to write the book, so the atlas idea has sort of faded into the background. But I'd still like to make it happen if I ever get free time again. . . .
Thank you so much, Jodi Meadows, for the amazing look into world setting of Before She Ignites!
To our wonderful readers, Thank you for stopping by the blog for Before She Ignites by Jodi Meadows Tour! As a thank you and appreciating we have a GIVEAWAY for you in ALL TOUR STOPS!
Miss Jodi Meadows was very kind and generous and donated 2 Finished copies of  🔥 Before She Ignites🐲 for 2 lucky winners!!! Giveaway is at the end of this blog post.
For more chances to win this amazing GIVEAWAY please don't miss the all the stops. Which will be full of interviews, creative posts, reviews and an excerpt!
But first, we would like to introduce to you the outstanding book trailer for Before She Ignites by Jodi Meadows
Book Trailer
We also want to thank, Sarah from the book blog 
The YA Book Traveler
 for designing the beautiful images and for creating the amazing book trailer which we can't stop watching! We can't appreciate you enough.
Giveaway
Tour Stops
Monday 9/4 –TheLifeofABookNerdAddict – Guest Post
Monday 9/4 – TalesofTheRavenousreader– Creative Post
Tuesday 9/5 – BooksAndPrejudice – Review
Wednesday 9/6 – EaterofBooks – Interview
Thursday 9/7 – ForTheSakeofReading – Review
Friday 9/8 – ABackwardsStory– Guest Post
Monday 9/11 –MaryHadALittleBookBlog -Guest Post
Monday 9/11 – thatartsyreadergirl.com -Review
Tuesday 9/12  – TheYABookTraveler -Review
Wednesday 9/13 – AThousandWordsAMillionBooks – Interview
Thursday 9/14 – BookCrush– Creative Post
Friday 9/15 – TheReaderAndTheChef– Review
Monday 9/18 –  YAandWine – Review
Tuesday 9/19 – TakeMeAwayToAGreatRead – Creative Post
Wednesday 9/20 – AphonicSarah – Interview
Thursday 9/21 – TheKindredReader – Review
Friday 9/22 – ReadWriteLove28 – Excerpt
Friday 9/22 – LoveIsNotATriangle – Guest Post
Thank you, Rebeca & Helena Xo.
Related Posts