I received this book for free from a in exchange for an honest review. This does not affect my opinion of the book or the content of my review.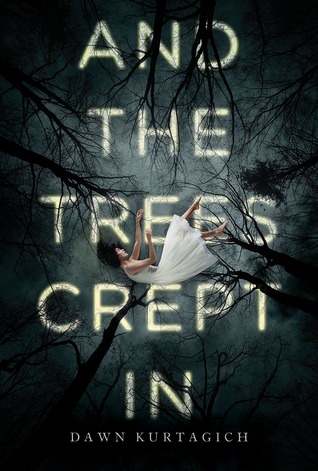 And the Trees Crept In

Published by Little on September 6th 2016
Pages: 352
Goodreads

A stunning, terrifying novel about a house the color of blood and the two sisters who are trapped there, by The Dead House author Dawn Kurtagich
When Silla and Nori arrive at their aunt's home, it's immediately clear that the "blood manor" is cursed. The creaking of the house and the stillness of the woods surrounding them would be enough of a sign, but there are secrets too--the questions that Silla can't ignore: Who is the beautiful boy that's appeared from the woods? Who is the man that her little sister sees, but no one else? And why does it seem that, ever since they arrived, the trees have been creeping closer?
Filled with just as many twists and turns as The Dead House, and with achingly beautiful, chilling language that delivers haunting scenes, AND THE TREES CREPT IN is the perfect follow-up novel for master horror writer Dawn Kurtagich.
And The Trees Crept In is a way too emotionally exhausting book to read
in one day
.
0/10 recommend.
I learned that lesson for you.
I know.
You're welcome. So this book is like…
Ummm…
*tries to wrap mind around it*
*tries to describe without spoilers*
Ok. Nevermind. Read the official description and get back to me.
Okay. Now that we know what we're discussing. Let's go.
Alright, so for the most part I was…not blown away. It felt like a whole lotta nothing happened and that nothing happened in very strange and often gross ways. For the first 75% percent of this book my thoughts were pretty consistently,
"wtf am I reading?"
(I know. I am an extremely deep and thought provoking thinker, thank you for noticing.)
And then the last 25% of the book started happening and I was all,
"WTF AM I READING?!"
(So as you can see, grave differences.)    

So what I'm trying to round up to is this: If you want a slow burn novel (like The Dead House…) that mindf*cks you up in the end (…but with a better ending), this is your story.
But if you want Action! Action! Action! This is not your story. But I would definitely like to read that story, so leave all recommendations below, k thanks.
To sum up: An often confusing, definitely disturbing, and surprisingly emotional thriller/horror/mystery that begs the question… Has there EVER been a manor/mansion that bad things HAVEN'T happened in?! Stick to small houses, guys. Large houses clearly cannot be trusted.
This review was provided by the lovely Chelsea, best known as  @

MissyPrissy12

 on twitter.
Thank you so much darling.
Related Posts