I received this book for free from a in exchange for an honest review. This does not affect my opinion of the book or the content of my review.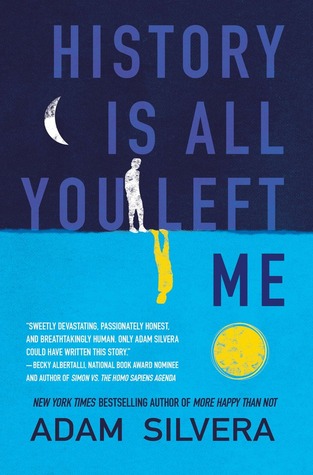 History Is All You Left Me

by Adam Silvera
Published by Soho Teen on January 17th 2017
Genres: contemporary, GLBT, Young Adult Fiction
Pages: 320
Goodreads

When Griffin's first love and ex-boyfriend, Theo, dies in a drowning accident, his universe implodes. Even though Theo had moved to California for college and started seeing Jackson, Griffin never doubted Theo would come back to him when the time was right. But now, the future he's been imagining for himself has gone far off course.
To make things worse, the only person who truly understands his heartache is Jackson. But no matter how much they open up to each other, Griffin's downward spiral continues. He's losing himself in his obsessive compulsions and destructive choices, and the secrets he's been keeping are tearing him apart.
If Griffin is ever to rebuild his future, he must first confront his history, every last heartbreaking piece in the puzzle of his life.
So, this was my first Adam Silvera book. I heard some many great things about his debut MORE HAPPY THAN NOT. I haven't had the chance of picking it up tho. But when the opportunity came to read HISTORY IS ALL YOU LEFT ME. I had to take the chance and pick it up immediately.
And friends I'm SO SO glad I did.
It was beyond this world. I loved every page every word that Adam Silvera put down. I actually never read this GLBT before and I was extremely nervous. I wanted to venture into GLBT for a while now. But nothing really spoke out to me and some that did, weren't own voices. Since this was my first, I needed it to be by own voice author. So I felt that HISTORY IS ALL YOU LEFT ME by Adam Silvera was the perfect book for me. And guys it was, believe me, it was the perfect author and story.
I'm so exhilarated that I finally picked this up. I'll remember HISTORY IS ALL YOU LEFT ME for a very long time. This book has made me a fan of Adam Silvera permanently. It is true what they all say about this young man. He's a talented human being with an EXTREMELY important voice. That I believe this community needs more of.
If you never ventured into Glbt but been looking for the perfect author or book. Believe me, that  HISTORY IS ALL YOU LEFT ME is the perfect start. It's a heart throbbing, incredibly beautiful story. That I am sure will have you in pieces by the end. You won't regret picking it up.
Related Posts