I received this book for free from a in exchange for an honest review. This does not affect my opinion of the book or the content of my review.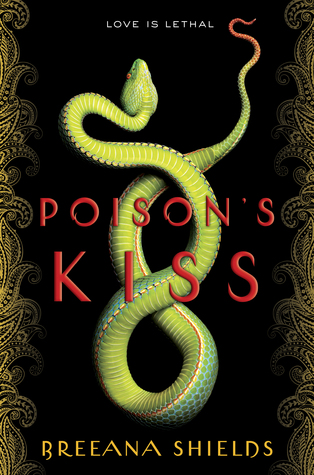 Poison's Kiss (Poison's Kiss, #1)

Published by Random House Books for Young Readers on January 10th 2017
Pages: 304
Goodreads

A teenage assassin kills with a single kiss until she is ordered to kill the one boy she loves. This commercial YA fantasy is romantic and addictive like-- a poison kiss-- and will thrill fans of Sarah J. Maas and Victoria Aveyard.
Marinda has kissed dozens of boys. They all die afterward. It s a miserable life, but being a visha kanya a poison maiden is what she was created to do. Marinda serves the Raja by dispatching his enemies with only her lips as a weapon.
Until now, the men she was ordered to kiss have been strangers, enemies of the kingdom. Then she receives orders to kiss Deven, a boy she knows too well to be convinced he needs to die. She begins to question who she s really working for. And that is a thread that, once pulled, will unravel more than she can afford to lose.
This rich, surprising, and accessible debut is based in Indian folklore and delivers a story that will keep readers on the edge of their seats.
Poison's Kiss by Breeana Shields was a slow read for me. I look back at all the reviews and wonder what the heck!? Why didn't I love it? Why was it different for me? Ugh, I really hate being the black sheep I really do. I was really exhilarated for this book. I thought Poison's Kiss was going to be out of this world. I mean they put SJM on the blurb!!!
"and will thrill fans of Sarah J. Maas and Victoria Aveyard".
But it actually was lackluster for me, unfortunately.
I should've  known better. I never fall for the "blurb"! It always makes my expectations higher. But damn it, they got me with SJM. I'm not saying this was a horrible book. Not at all. In my honest opinion, I think by putting SJM on the blurb. It made me expect something extraordinary! Which unfortunately this book did not reach. But again this is only my opinion. I've read lots of reviews that say otherwise.
I wasn't immediately engaged with Poison's Kiss. It was interesting but lacked a bit of description. And quite honestly it was a bit boring. I was looking for more world build and Indian folklore. There aren't many books that are based on Indian folklore and when I learned that this book was, I was pretty impressed.
The main character Marindal was ok. I didn't quite like or disliked her. She was a bit too quick on judging ppl and quick with situations. But I understand she did have to be cautious. But certain things could have been solved by simply speaking up and/or holding your ground.
The plot was not as engaging as I would have hope for. The structure of Poison's Kiss was continuous and unfolds slowly. I also wasn't surprised by the plot's ending, it was a bit predictable but satisfying all in all.
Breeana Shields writing is engaging but at times I feel that it loses its essence.
Poison's Kiss is the first in a duology by Breeana Shields. If you love YA fantasy this is probably a good choice, just don't go into this story expecting Sarah J. Maas and Victoria Aveyard. Every write is their own person with their own writing style. Not two people are the same. And I believe that that is what messed me up for this book. It is a great story, I was expecting too much. Don't make the same mistake I did.
Related Posts