I received this book for free from a in exchange for an honest review. This does not affect my opinion of the book or the content of my review.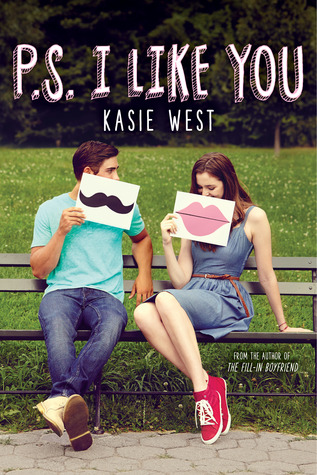 P.S. I Like You

by Kasie West
Published by Point on July 26th 2016
Pages: 330
Goodreads

Signed, sealed, delivered…
While spacing out in chemistry class, Lily scribbles some of her favorite song lyrics onto her desk. The next day, she finds that someone has continued the lyrics on the desk and added a message to her. Intrigue!
Soon, Lily and her anonymous pen pal are exchanging full-on letters—sharing secrets, recommending bands, and opening up to each other. Lily realizes she's kind of falling for this letter writer. Only, who is he? As Lily attempts to unravel the mystery and juggle school, friends, crushes, and her crazy family, she discovers that matters of the heart can't always be spelled out…
Awww this was such a cute book!!! I haven't read a book in a day in such a long time, so that tells you there how much I loved this book.
Let's start off with Lily. I absolutely loved her. I could relate so much to her because she was the awkward girl that no one really knew what to say to her. Like her, I always felt like the odd ball growing up in high school. I couldn't quite talk normally to most girls my age because I was way too self conscious on myself. I know that was my fault but that is why I loved Lily so much. She was awkward and cool and dressed her style in her own way, but she didn't even know that was uniquely her own person. I think she and I could have been great friends.
Second, I loved the witty banter between Lily and her secret pen pal. The connection they made really showed in the story. They were each themselves with out having to put up a façade. I think that is why they clicked so well together once they found out who they really were in person. Yes, I may have not liked the love interest at first because he comes off as an obnoxious jerk in the beginning. Once you find out his back story though, it explains a lot of why he is the way that he is. After that he really grew on me, and I couldn't help but love him in the end.
I also liked that Lily's family was active in the story! They were a fun, quirky and huge family that was a huge plus in the story. They had Thanksgiving together as a family, and it was just adorable. You don't see that much in YA books and because of that it was a nice surprise.
This was my first contemporary read by Kasie West, and it will certainly not be my last book to read by her. I can't wait to check out her other romance novels because she writes the swoony-est, cutest guys ever. Definitely check out this book if you're in the mood for a light hearted, fun chick lit.
Related Posts