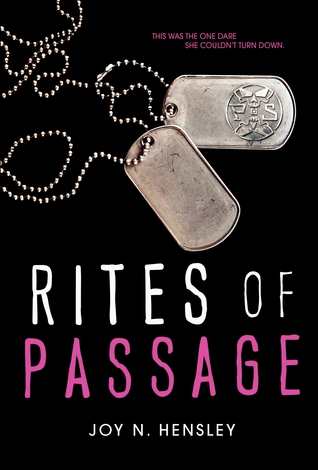 Rites of Passage

on September 9th 2014
Pages: 416
Goodreads

Sam McKenna's never turned down a dare. And she's not going to start with the last one her brother gave her before he died.
So Sam joins the first-ever class of girls at the prestigious Denmark Military Academy. She's expecting push-ups and long runs, rope climbing and mud-crawling. As a military brat, she can handle an obstacle course just as well as the boys. She's even expecting the hostility she gets from some of the cadets who don't think girls belong there. What she's not expecting is her fiery attraction to her drill sergeant. But dating is strictly forbidden and Sam won't risk her future, or the dare, on something so petty... no matter how much she wants him.
As Sam struggles to prove herself, she discovers that some of the boys don't just want her gone—they will stop at nothing to drive her out. When their petty threats turn to brutal hazing, bleeding into every corner of her life, she realizes they are not acting alone. A decades-old secret society is alive and active… and determined to force her out.At any cost.
Now time's running short. Sam must decide who she can trust... and choosing the wrong person could have deadly consequences.
I have been wanting to read this book for a while ago and I´m super happy that I finally got the chance to read it. I´ve heard so many possitive comments about it, and that made me want to read it even more.
At the beginning of the story I found myself unable to put it down, the way it started made me want to keep reading it and guess what?!?!? I FINISHED THE BOOK IN ONE DAY.
The story is about how Samantha Jane, daughter of a Colonel and sister of a Cadet Colonel, tries to survive at the DMA (Denmark Military Academy), because of a dare that his brother gave her before he died.
She´s determined to prove that she´s capable of doing all the things that the other boys at the academy do. But things start to get complicated. Some of the boys don´t want her and the other girls to be there, so they do everything in their power to get them out. She tries to ask her brother for help, but it was pointless.
My favorite character of the story was Sam, she was strong, funny, brave and she never gave up, even when things started to look difficult and dangerous; she proved that girls are capable of doing whatever they want no matter what.
However, I felt like the end lacked something. Don´t misunderstand me, I really loved this book, but once I finished it, I went to goodreads to see if there was going to be a sequel. I was kind of sad to know there wouldn´t be another book.
I totally recommend you guys to read it, I can´t believe it took me so long to finally read it, but I´m glad that I finally did. I hope you like this book as much as I did.
This story was full of action, love and revenge, all the things that a book should have, readers won´t be able to put it down.
Related Posts