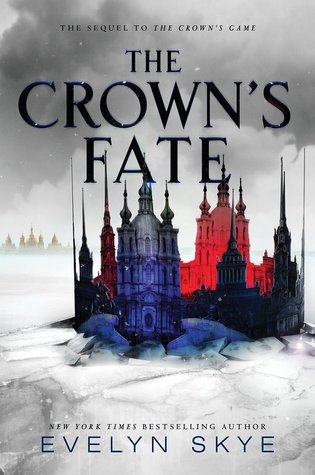 The Crown's Fate (The Crown's Game, #2)

by Evelyn Skye
Published by Balzer + Bray on May 16th 2017
Genres: Fantasy, Historical Fiction
Pages: 400
Goodreads

Perfect for fans of Shadow and Bone and Red Queen, The Crown's Fate is the thrilling sequel to the New York Times bestselling The Crown's Game, an atmospheric historical fantasy set in Imperial Russia.
Russia is on the brink of great change. Pasha's coronation approaches, and Vika is now the Imperial Enchanter, but the role she once coveted may be more difficult—and dangerous—than she ever expected.
Pasha is grappling with his own problems—his legitimacy is in doubt, the girl he loves loathes him, and he believes his best friend is dead. When a challenger to the throne emerges—and with the magic in Russia growing rapidly—Pasha must do whatever it takes to keep his position and protect his kingdom.
For Nikolai, the ending of the Crown's Game stung deeply. Although he just managed to escape death, Nikolai remains alone, a shadow hidden in a not-quite-real world of his own creation. But when he's given a second chance at life—tied to a dark price—Nikolai must decide just how far he's willing to go to return to the world.
With revolution on the rise, dangerous new magic rearing up, and a tsardom up for the taking, Vika, Nikolai, and Pasha must fight—or face the destruction of not only their world but also themselves.
Hi everyone!! thank-you so much for stopping by today.
Waiting On Wednesday is a weekly meme, hosted by Jill at Breaking the Spine which spotlights upcoming releases that we're eagerly anticipating.
 AHHHHHHH!!!!
NOOOOOOOOOOO!!!!!!
It's almost over,😭 😭 😭 It's almost over!!!! The conclusion of The Crown's Game duology is finally upon us.
I had the pleasure of being part of The Crown's Game Spotlight a few weeks ago. I had the opportunity to design an inspiration art piece based on this beautiful cover.
I think it turned out pretty fabulous.
I have to say the whole tour was incredible and it simply has me anticipating the conclusion of this amazing story. I will truly miss this amazing story.
Related Posts