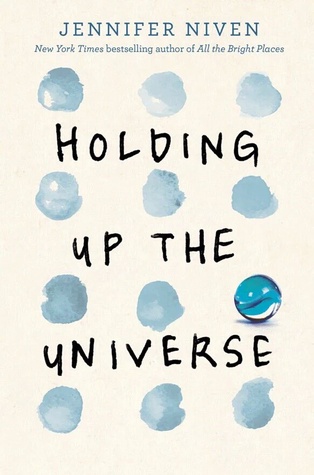 Holding Up the Universe

Published by Knopf Books for Young Readers on October 4th 2016
Pages: 400
Goodreads

From the author of the New York Times bestseller All the Bright Places comes a heart-wrenching story about what it means to see someone—and love someone—for who they truly are.
Everyone thinks they know Libby Strout, the girl once dubbed "America's Fattest Teen." But no one's taken the time to look past her weight to get to know who she really is. Following her mom's death, she's been picking up the pieces in the privacy of her home, dealing with her heartbroken father and her own grief. Now, Libby's ready: for high school, for new friends, for love, and for EVERY POSSIBILITY LIFE HAS TO OFFER. In that moment, I know the part I want to play here at MVB High. I want to be the girl who can do anything.
Everyone thinks they know Jack Masselin, too. Yes, he's got swagger, but he's also mastered the impossible art of giving people what they want, of fitting in. What no one knows is that Jack has a newly acquired secret: he can't recognize faces. Even his own brothers are strangers to him. He's the guy who can re-engineer and rebuild anything in new and bad-ass ways, but he can't understand what's going on with the inner workings of his brain. So he tells himself to play it cool: Be charming. Be hilarious. Don't get too close to anyone.
Until he meets Libby. When the two get tangled up in a cruel high school game—which lands them in group counseling and community service—Libby and Jack are both pissed, and then surprised. Because the more time they spend together, the less alone they feel. . . . Because sometimes when you meet someone, it changes the world, theirs and yours.
Jennifer Niven delivers another poignant, exhilarating love story about finding that person who sees you for who you are—and seeing them right back.
Hi everyone!! thank-you so much for stopping by today.
Waiting On Wednesday is a weekly meme, hosted by Jill at Breaking the Spine which spotlights upcoming releases that we're eagerly anticipating.
My WoW for this week is…
WHY I'M WAITING
As you can see from these wonderful gif's!!!! I don't care what anyone is saying about this book.
Truly, this book was not offensive in any way. I understand what happen, I saw the blur. It was corrected and the author also stated her apologies. Jennifer Niven also said that this story is ACTUALLY based on a real person!
Well crap on a cracker.
All those people that made noise and where over dramatic over something that is ACTUALLY TRUE. Have you ever thought, that maybe this person! Actually felt like that? Have you ever stopped, for a min and think. "Uh maybe not EVERYONE thinks like me?"
No, never thought about that, did you? Well maybe you should of. Everyone is entitled to their own opinions. But my god, relax, come down. No need to go over broad and act out, ugh!
I truly  can't wait to read Holding Up the Universe. I want to see how Jennifer Niven worked, a over weight girl and a boy with  Prosopagnosia, together. I think its an interesting topic and it intrigues me. I loved All the Bright Places. I love this authors writing and I can't wait to have it in my heads.
I know everyone is entitled to their opinion. I just wish people would be a little less aggressive and talk things through. Be genuine, not rude and obnoxious to people.
 
Related Posts