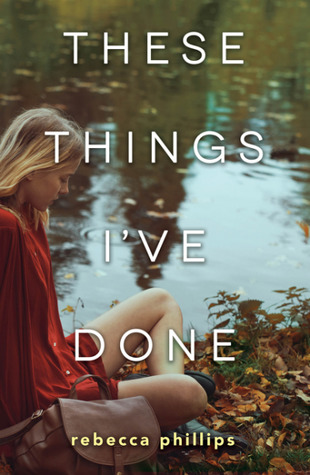 These Things I've Done

Published by Harlequin Teen on August 1st 2017
Genres: contemporary, Family, Friendship, Loss, Love, Romance, YA
Format: Hardcover
Buy on Amazon-Buy on Barnes & Nobles-Buy on Book Depository
Goodreads

Before: Dara and Aubrey have been inseparable since they became best friends in sixth grade. Dara is the fearless one, Aubrey the prodigy, yet despite their differences they support each other unconditionally. However, as they begin their sophomore year of high school, cracks in their friendship begin to form, testing the bond they always thought was unbreakable.

After: It's been fifteen months since the accident that killed Aubrey, and not a day goes by that Dara isn't racked with guilt over her role in her best friend's death. Now, after spending a year away from home in order to escape the constant reminders of what happened, Dara is back at her old high school to start her senior year. Dara thought the worst thing about coming home would be confronting the memories of Aubrey that relentlessly haunt her, but she soon realizes it's not half as difficult as seeing Ethan, Aubrey's brother, every day. Not just because he's a walking reminder of what she did, but because the more her feelings for him change, the more she knows she's betraying her best friend one final time.
Hello lovely people ♥️ How are you? 😊 I hope you are all having an amazing and wonderful day ☀️ What are you guys reading 📚 ? OR What was the last book you read? If you are in a book slump don't worry about it! I hope you find the right book soon or you can always re-read a favorite book! That always works for me ❤️ ❤️ ❤️ If you ever need some book recommendations you can always ask me, I would love to help 😊
Today I'm going to be sharing my thoughts about a book I have been wanting to read since forever. The first time I saw this book I thought it sounded interesting, the first thought that came to my mind was, "This book is going to make me cry isn't it?"  I immediately added it to my TBR and after reading the book I was right, it did made me cry and I loved it even more because of that ❤️
The book I'm talking about is,  These Things I've Done by Rebecca Philips! This is the first book I've read by this author and after reading TTID I know it won't be the last one! I'm so happy to know that the author has written more books and I really can't wait to read them too.
These Things I've Done was an emotional book. It's about Family, Friendship, Loss and Love. About the struggle of how to move on and know that you won't be alone and most importantly, to forgive yourself.
As soon as I started to read this book I new it was something I would definitely like. Rebecca's writing style was amazing, it was a very gripping story and I just couldn't put the book down.
One of the things I loved the most about this story was the connection between the two best friends, Dara and Aubrey. Dara is the kind of girl that goes after what she wants in life, she is fearless and always loves a good dare. Aubrey is someone who's super intelligent, talented, loves her brother and best friend with all her heart, the three of them were just perfect friends, and I really liked to read about them.
But then tragedy strikes and Dara can't help but feel guilty after her best friend's death… Everything changes after that. Dara is not the same fearless girl she was before and she decided to go live away from where it all happened. But when she comes back the are more than just once thing that has changed, for example, Aubrey's little brother changed a lot, and both of them start to develop feeling for each other, but the thing is…Dara feels bad because of the feelings she's having now.
This story is told in alternating chapters. One after Aubrey's death – Senior Year –  and the other one in which we get to read about their friendship – Sophomore Year. I really liked when we get to read the things that happen before and after a certain situation in a story. In this story for example we've got to read about their friendship, about their ups and downs, and how Dara feels after her best friend passes away.
Everything changed when she came back. Some of her old friend don't treat her the same way they did, some were super rude with her and my heart broke for her. The character that surprised me the most was Ethan. He has such a big heart and I was surprised just as the MC at how he treated her. Ethan and Dara were amazing and I really liked how Ethan defended her against some certain people.
This book was amazing and I had tears in my eyes after I read the last line of the book, I hope you guys like it when you read it!
Have you guys heard about this book before? Are you planning to read it? Please let me know in the comments below, I would love to hear your thoughts.
Rebeca ❤️
Author Biography
Rebecca Phillips has been writing YA since she was a YA herself. She's the author of:
The JUST YOU series
OUT OF NOWHERE
FAKING PERFECT (Kensington)
ANY OTHER GIRL (Kensington)
THESE THINGS I'VE DONE (HarperTeen)
THE GIRL YOU THOUGHT I WAS (HarperTeen, July 31, 2018)
Rebecca lives in beautiful Nova Scotia, Canada with her husband, two children, and one spoiled rotten cat.
Website – Twitter – Goodreads
Related Posts